As part of our most recent efforts to engage with the local community, Keighley Laboratories have combined with Yorkshire based digital brand marketing agency, Brand Ambition to provide donations to popi.org.uk, a baby bank located in our local town, Keighley. Going beyond a simple donation, the team at Keighley Labs wanted to utilise our own special skillsets to create a video that reinforced the message about how important it is to donate and support local charities.
We utilised our Tinius Olsen 600SL Universal Testing Machine to crush the toys featured in the video via controlled compression. The Universal Testing Machine is normally utilised within our mechanical testing lab, which provides a service to perform tests such as tensile and compression load testing.
On the filming day, we managed to collect a range of pre-loved and new toys bought specifically for the campaign and, under a similar guise to our Yorkshire's Strongest Brand campaign, we proceeded to find the breaking points of each toy.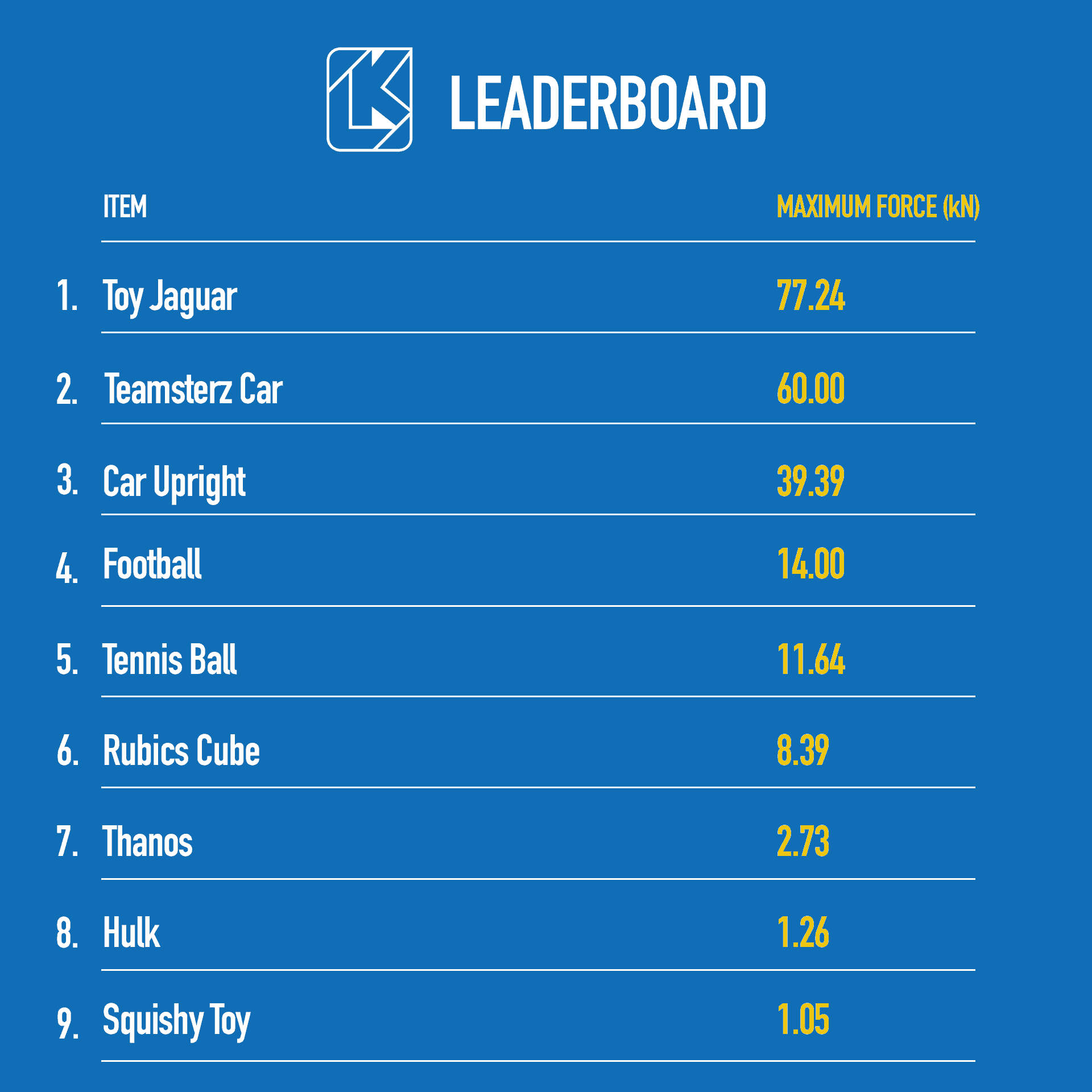 Despite the fun we had testing out the machine on objects other than metal, the message for the campaign is one that is close to our hearts. As a family-run business, we employ local families that are probably aware of someone in need of support from the local baby bank and with Christmas fast approaching, we know how crucial the services provided by the team at POPI (Pass On Preloved Items) are to our local community.  In 2020, the UK spent £3.3bn on around 330 million toys for our children, but 8.5 million of these new toys end up in landfills. A further 13 million perfectly good, pre-loved toys also end up in the bin with 28% of UK parents admitting to simply discarding toys in a working condition.
Samantha Craven, Founder and General Manager of Popi in Keighley had this to say;
'We are extremely grateful to Keighley Laboratories and Brand Ambition for their generous donations and the opportunity to put POPI at the forefront of their campaign. As a baby bank it's essential we provide items such as brand new mattresses with each cot we give to families. New toys will also mean local children have a wonderful Christmas who otherwise would have gone without. Supporting a local charity means so much to us, as we see, every day, the difference even small donations can have on the development and growth of the 1,573 families we've supported in the last four years.This money will enable us to buy approximately 10 new mattresses keeping many more babies and young children safe. Having the support of these two businesses means the world to us.'"
Our very own Debbie Mellor, Managing Director of Keighley Laboratories said of the campaign;
"If this joint campaign encourages just one person to donate to their local baby bank instead of throwing the toys away then it was worth it. We know how important our local community of Keighley is to us as a family, but also for the business that has been established for over 100 years. We hope to work closer with our local charities and we're proud to donate too the team at Popi who have been doing such a great job in the Keighley and Bradford area to support families that need it."
As part of the campaign, Keighley Laboratories and Brand Ambition donated new toys, pre-loved items, new baby sleepsuits as well as £200 to be used against brand new mattresses or any other items the charity felt would benefit local families.