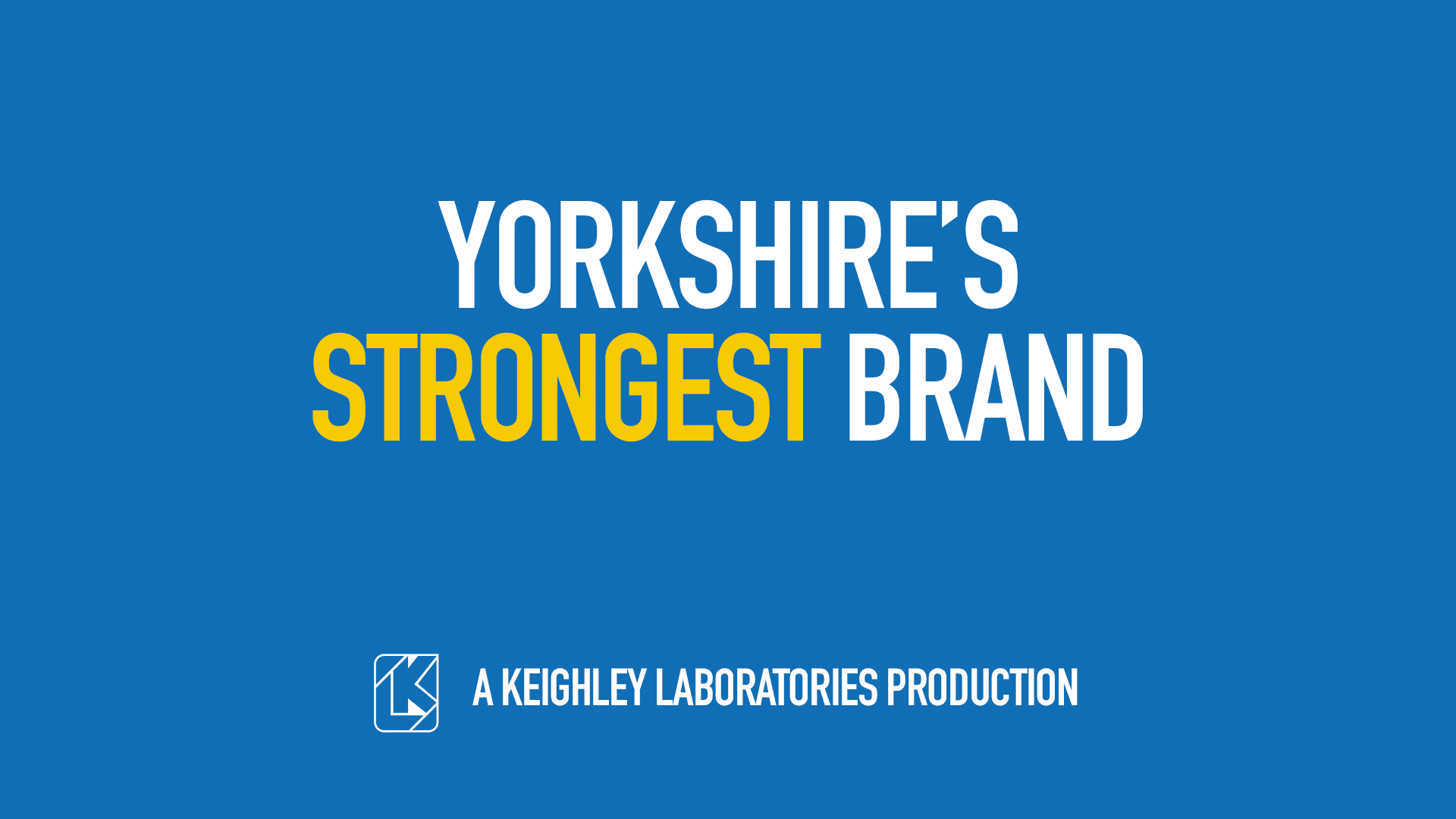 Welcome to Yorkshire's Strongest Brand 2021
 With Keighley Labs – crushing brands for over 100 years.
Come and prove your brand is made from tough Yorkshire grit.
At Keighley Labs, we are on a mission to find out who is Yorkshire's Strongest Brand. So if you think that your brand has what it take to take the prestigious and inaugural crown, get involved!
Follow along on Linkedin via #YSB2021
The Challenge
The challenge is simple, we will put an item of your choice into one of our two state of the art tensile testing machines. Pressure is slowly applied, and the longer your item survives the higher up the leaderboard you'll go.
  The Rules
Our machines are able to crush things effectively, but there are a few items that can't be put in them. The main rules for the tournament are:
1. No liquids, ceramics, glass or powders.
Partly for our machines health, but mainly because these would leave quite a mess!
2. The items must be able to fit into one of our two tensile machines.
The maximum size that an item can be is  20″x 25″ (slightly larger than a half barrel beer keg).
3. All competing items cannot be considered squishy.
The technical term for an item that when crushed returns to its original state.
4. Each brand can provide up to a maximum of three items.
You can take your crushed item with you as a memento, or alternatively, we will be happy to responsibly recycle all items.
5. Be based in Yorkshire
Competitors are eligible if they are a company or brand with a physical business address located in the Yorkshire region, and has at least two employees.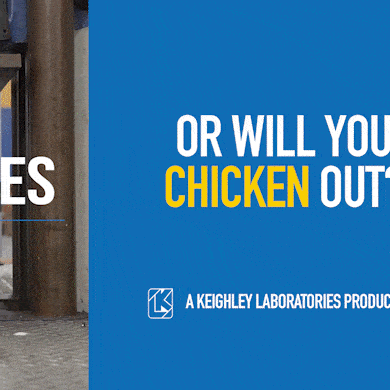 The results will be judged on how much pressure was placed on an item when it reached its breaking point. This is measured in kilonewtons. 
Closing date for applications is December 1st 2021. The winner will be announced once all entries have been processed.
All brands that enter are invited to come down to Keighley Labs HQ to witness our tensile machine in action. Please contact marketing@keighleylabs.co.uk for further details.
The Prize
The winner of the tournament will receive a money can't buy prize – the pride of knowing you are the toughest brand in Yorkshire.
You can also show off your achievement with our state of the art Timothy Taylors beer barrel trophy, crushed expertly by our technicians.
How to Apply? –

Applications are Open
To enter the tournament contact us by email at marketing@keighleylabs.co.uk. Our team will then discuss the details of your entry.
Closing date for applications is December 1st 2021.
The tournament is open to any Yorkshire-based brand with at least two employees. Get in touch with us today no matter how big or small your company is.
We reserve the right to deny entry to the tournament on any grounds.
Yorkshire's Strongest Brand 2021 – Live Leaderboard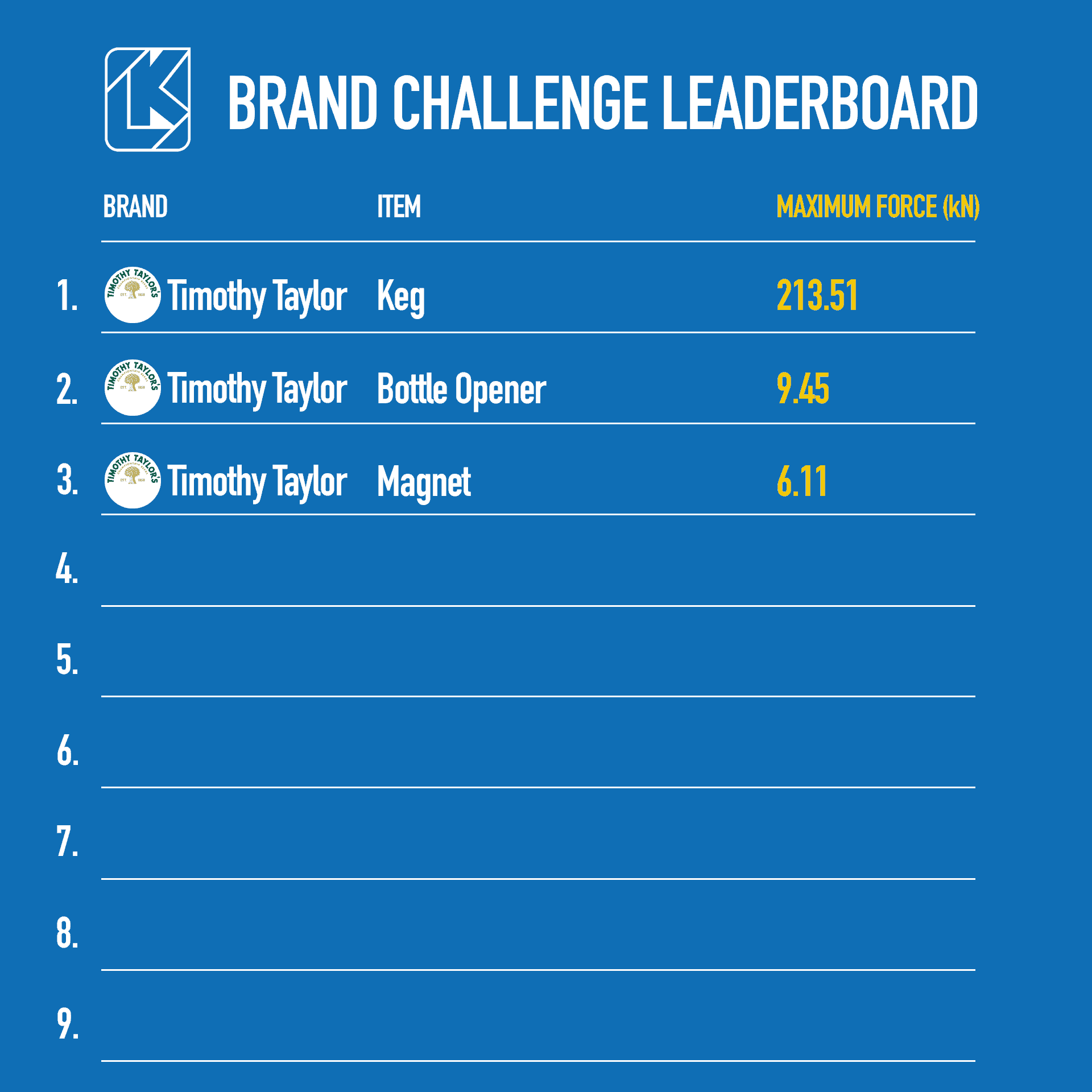 FAQs – Frequently Asked Questions
What machines are being used and what are they used for?
The machine being used is our new tensile testing machine. This is specially configured to evaluate the tensile strength of items. It slowly applies pressure onto the test specimen until it fractures. This process is used to test whether materials are fit for usage and are up to industry standards.
What are the specifications allowed for items?
The specifications allowed on items are those that are able to fit in our tensile testing machine. In the past, the largest item we have been able to fit into the machine was a beer barrel, so any item smaller than that will qualify.
Can I bring more than one item to be tested?
We are allowing brands to bring up to three items to be crushed by our machine. All of the items will be included on the leaderboard.
What happens to the items once they have been crushed?
You can take your crushed item with you as a memento, or alternatively, we will be happy to responsibly recycle all items.

Keighley Laboratories Ltd
Registered Office:
Croft House
South Street
Keighley
West Yorkshire
BD21 1EG
Registered in England 164811
UK Tel: +44 (0)1535 664211
Email: info@keighleylabs.co.uk